In June 2014 the UK government launched a scheme to encourage businesses to adhere to best-practice in IT security. Called Cyber Essentials, it started as a requirement for all suppliers to central UK government and had one simple aim: to protect information and data from online threats.
NW Security Group, decided to go one step further, becoming Cyber Essentials Plus certified.
Over the years its has been the company's priority to maintain high security and service standards, giving our customers piece of mind when working with a systems integrator that can prove its commitment to being cyber aware and cyber secure.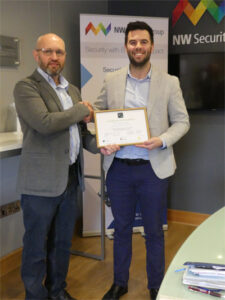 This year, 2022, and for the 6th year in a row, we have once again confirmed our commitment to investing in strong cyber security practices and have again been internally tested by Protos Networks to assess our eligibility to carry on our Cyber Essentials Plus status.
Our commitment to keeping our Cyber Essential Plus status is a clear proof of our dedication to security and systems hardening. It is vital for us to demonstrate that we understand security best-practice so when we work on a customer's system, they know we will not be a vulnerable link in their supply chain.
Kevin Bowyer, Technical Director at NW Security Group, commented: "Gaining Cyber Essentials Plus certification is important to us not only to protect our business and our staff, but also to protect our customers and suppliers. The supply chain is a crucial element in the provision of security services and a certification such as this informs our partners in business that we take cyber security protections seriously and implement best practices both within our business and when we are deploying solutions for our customers.
Taking cyber security seriously, as we have done since our inception in 2004, means reducing the risks all round. Cyber security risk is not acceptable to us and as a firm deploying security products and services, we must ensure we are enhancing security, not introducing security vulnerabilities. On top of this, we work with vendors who can back up their own cybersecurity positions and who demonstrate a strong cybersecurity awareness within their products."
Darren Kewley, Technical Director at Protos Networks, mentioned: "It's been a pleasure working with NW Security Group on renewing their Cyber Essentials Plus certification.
Physical Security and Cyber Security go hand in hand when it comes to create a wide-ranging protection for a business, and it's great to see that NW security Group it's committed to full compliance and see this as an opportunity to form a competitive advantage."
UPDATE: on 26th April 2023 NW attained Cyber Essentials Plus for a 7th year